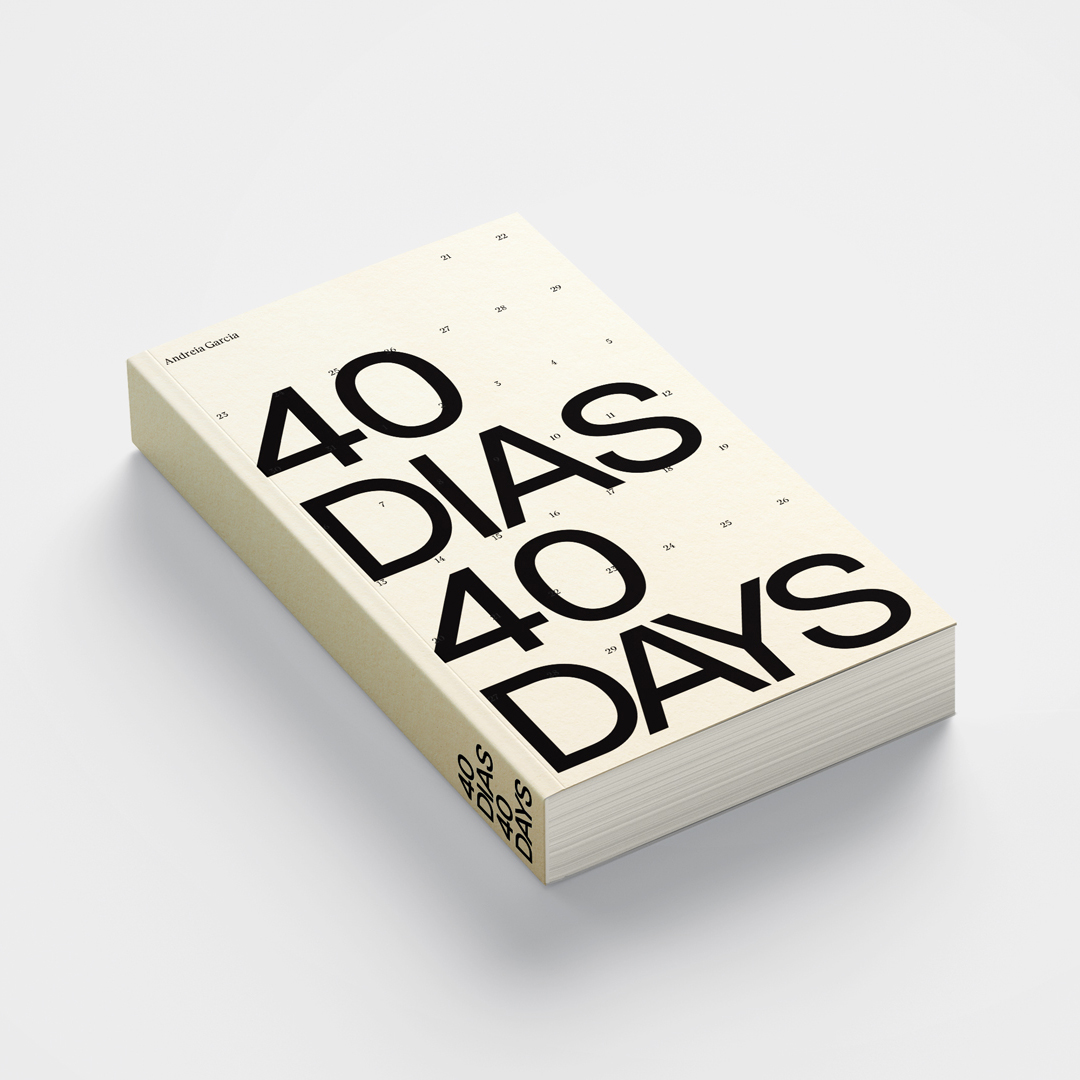 40 Dias/40 Days
[PT] "40 Dias/40 Days" é um projecto de edição dedicado à publicação física de um livro bilingue que relata, revisita e reinterpreta criticamente um projecto de investigação iniciado num conjunto de tertúlias, denominadas "Desde Casa", realizadas em directo na plataforma digital Instagram, durante o período inicial da quarentena.
Ao longo de 40 dias consecutivos, entre 21 de Março e 29 Abril de 2020, a arquitecta, professora, investigadora e curadora portuguesa Andreia Garcia conversou, por períodos entre 30 a 90 minutos, com 20 arquitectas e 20 arquitectos, nacionais e internacionais, procurando reflectir sobre a pandemia de Covid 19, a obrigação de confinamento e os seus impactos na Arquitectura, na Cidade e na Sociedade. Acreditando na importância da preservação e análise crítica destas reflexões para memória futura enquanto ferramenta operativa, surgiu a vontade de editar esta publicação e de a disseminar nacional e internacionalmente, pelo que para tal foi precioso o apoio à criação e edição da Direção-Geral das Artes.
Nesse sentido, o projecto editorial consiste na transcrição, interpretação crítica, edição, tradução, revisão e publicação das 40 tertúlias realizadas, em formato de livro, bilingue, formalizando uma publicação física que construe sobre estas reflexões, em tempos críticos.
Mais do que uma síntese crítica encerrada, esta publicação traz a si a intenção de se constituir como uma plataforma em aberto que poderá permitir a descoberta e a exploração de outros caminhos e sentidos para a compreensão da relação do Homem com o mundo e do papel da Arquitectura na sua mediação.
[EN] "40 Dias/40 Days" is an editing project dedicated to the physical publication of a bilingual book that reports, revisits and critically reinterprets a research project initiated in a set of tertulias, called "Desde Casa", held live on the digital platform Instagram, during the initial period of the quarantine.
Over 40 consecutive days, between 21 March and 29 April 2020, the Portuguese architect, teacher, researcher and curator Andreia Garcia talked, for periods between 30 and 90 minutes, with 20 architects and 20 architects, national and international, seeking to reflect on the Covid 19 pandemic, the obligation of confinement and its impacts on Architecture, the City and Society. Believing in the importance of preservation and critical analysis of these reflections for future memory as an operative tool, the will arose to edit this publication and to disseminate it nationally and internationally.
In this sense, the editorial project consists in the transcription, critical interpretation, editing, translation, proofreading and publication of the 40 tertulias held, in book format, bilingual, formalising a physical publication that builds upon these reflections, in critical times.
More than a closed critical synthesis, this publication is intended to be an open platform that may allow the discovery and exploration of other paths and directions for the understanding of the relationship between Man and the world and the role of Architecture in its mediation.
Edição / Edition • 2022, Porto
Autoria / Authorship

Andreia Garcia

Conversas / Talks

Jorge Garcia Pereira Ana Neiva Nuno Grande Inês Moreira Pedro Campos Costa Ana Jara Tiago Mota Saraiva Mariana Pestana Luís Maria Baptista Lucinda Correia Pedro Novo Dulcineia Santos Luís Santiago Baptista Paula Melâneo Sérgio Fazenda Rodrigues Patrícia Barbas André Tavares Teresa Novais Pedro Vada Fabrícia Valente Pedro Gadanho Mariana Sendas Pedro Bragança Giovanna Borasi Pedro Bandeira Maria Conceição Melo Carlos Antunes Alexandra Cruz Miguel Figueira Paula Santos Jorge Mealha Lara Seixo Rodrigues Nuno Sampaio Rita Aguiar Rodrigues João Crisóstomo Eliana Sousa Santos Bernardo Brito Abreu Mafalda Rangel José Mateus Ana Tostões
Prefácio / Foreword
Andreia Garcia

Posfácio / Afterword

Paulo David

Editora / Publisher
Architectural Affairs
Editora e Coordenadora Editorial
Editor and Editorial Coordinator
Andreia Garcia
Co-editor e Revisor
Co-editor and Proofreading
Leonel Barbosa
Transcrição / Transcription
Andreia Garcia, Rita Amado
Tradução e Revisão
Translation and Proofreading
Anabel Goulart, Fran Seftel and Russell Shackleford
Design
And Atelier — João Araújo & Rita Huet
Gráfica / Printer
Gráfica Maiadouro
Tiragem / Print Run
500
ISBN
978-989-54508-2-4
Depósito legal / Legal deposit

499507/22
Agradecimentos / Acknowledgment
Canadian Center for Architecture, Casa da Arquitectura, Diogo Aguiar, Fran Seftel, José Garcia, Julia Albani, Trienal de Lisboa, Todos os participantes das conversas Desde Casa This publication was made possible in part thanks to the financial support of Direcção Geral das Artes (DGARTES) | Apoio a Projectos — Criação e Edição, 2020